The days are slowly getting longer, the sun comes out more often and the temperatures are rising, a little bit at a time... it means one thing, and one thing only: spring's close! Even though we're experiencing some last bits of winter, spring is not quite far off. The sun loving human being that I am, waking up to sunshine just does something for me. A spurge of new energy splashes through my body and I seem to be able to handle whatever will come my way during the day. It can't be a surprise when I tell you I've started reviewing my spring wardrobe, right?
But I must admit, even though I'm the biggest spring/summer lover you'll probably meet, I get sad leaving the winter behind with its cosy nights, warm blankets and great winter fashion. So, if you're looking to refresh your wardrobe for spring but you're not willing to let go just quite yet of that winter feeling like I am, you can invest in pre-owned fashion items that you're sure to be able to keep wearing until summer truly arrives. Vestiaire Collective is the place to find pre-owned luxury pieces at great prices, and they have all that you would need for this transition period from winter into spring.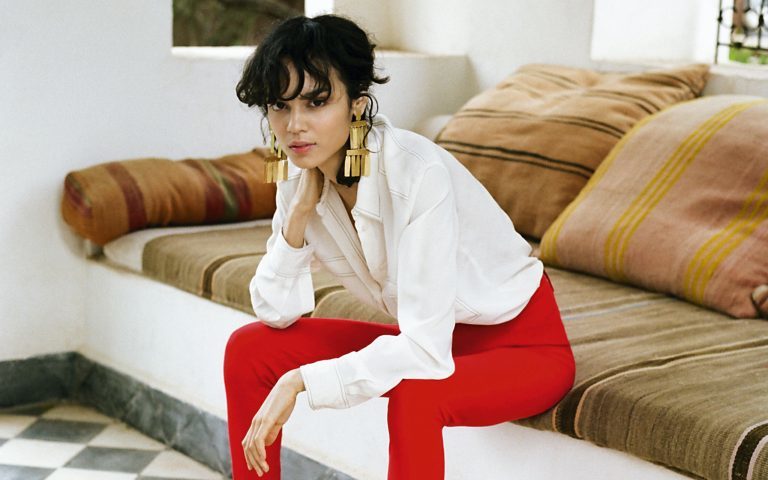 Fashion Items to Wear from Winter to Spring

The Leather Jacket
When browsing Vestiaire Collective, I just couldn't stop myself from having a look at the leather jacket category. It's a great in-door jacket for the last bits of winter, but also perfect for the spring weather when it's still fresh outside in the morning and when it cools down in the evening.
Leather jackets always give me this Grease, cool chic vibe, so pairing yours with a pair of black formal trousers, a thin turtleneck sweater or a simple white t-shirt and a pair of leather ankle boots is all you really need.
The Jumper
One of winter's most essential fashion items, I cannot imagine you don't have one hanging in your closet. But I can also imagine yours is thick, cable knitted or just simply massive… isn't it? For that last bits of winter and that beginning spring time, a somewhat thinner jumper is desirable. Whether you love yours with a bit of a turtleneck, you prefer it plain or you're looking for a colourful jumper to cheer up your wardrobe, a jumper is a must have for this coming period.
The Ankle Boot
Hey, if you were to ask me, I'd say the ankle boot is an all-round-the-year kind of fashion item (though I must admit maybe not during a heatwave…), but I understand if you're hesitant on investing in a new pair. The great thing about Vestiaire Collective is that you're giving a pair of shoes, a bag, a necklace or a jacket a new life and you're not nearly spending as much as if you'd buy it new. You're giving your wardrobe a small refresh, and we all know shoes are the way to do it. Plus, with a classic black leather pair, you're sure you'll wear it next winter too.
The Accessories
Another fantastic way to upgrade your wardrobe in a money-saving manner is renewing your accessories. A great new bag or a new necklace does wonders to your look. Here again Vestiaire Collective is your friend in need: you can find gorgeous pieces for lower prices. No need to go all out with a brand new, expensive piece. Refresh your wardrobe through Vestiaire and invest the money you saved later on in the season, on a magnificent bikini or swimsuit.
Selling & Re-selling, now open for YOU
Until not too long ago, you could only shop certified products from certified shops at VC. But no longer! Vestiaire Collective has also opened up their marketplace for YOU! Yes, YOU! If you have a gorgeous pair of heels, a pair of pants or a pair of earrings you are not feeling any more, you can easily sell them on Vestiaire Collective. It's safe, it's fun, and you're earning some money to spend on your next purchase.
There's a bit of time left before spring will be really here, so before we jump into another season let's truly enjoy the last winter days. Because before we know it, temperatures will be hitting high, we'll be sitting around, sweating, feeling sorry for ourselves for not having enjoyed the last bit of cold.
To help you out, Vestiaire Collective is offering you 10% OFF (with a minimum order value of AU$500) between the 27th-29th of August so you can start working on your spring wardrobe refresh. Use the code AU10818 and shop now or regret it later!
Love Gal