It's not spring for a while - I know, I know! But I've been looking at some European fashion styles, you know, just to get some inspiration (like I did recently for winter) and all these new styles just made me giddy with the joy of a new season and the idea of summer.. and the fact that winter's been pretty sunny lately is helping too. So, instead of judging me secretly (I know what you're thinking), how about you join me in obsessing over spring looks? I promise you that's way more fun!
I've always had the opinion that the first month/day/minute is extremely important in setting the tone for whatever it is. That's the reason why I always make sure my January is fun and why I always put on my favourite song first when I go to the gym. Just gets me going! With this in mind, creating a wonderful first day of spring look is just as important for me. It will guarantee a lovely spring season ahead.
So, let's start planning (somewhat early, I admit) on how we're going to set the tone for a wonderful spring season with some outfit ideas from our European friends.
3x Spring Looks for Your First Day of Spring Mood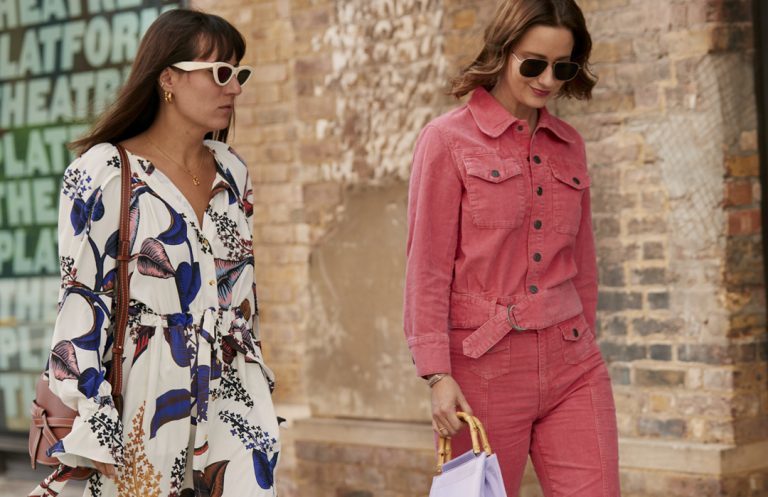 Danish Pernille Teisbaek knows how to style for spring! Sometimes it can be a bit chilly (it really depends on the year) so a pair of skinny jeans that sit just right is a perfect choice.
Then, she opted into white; really, is there a better suiting colour to celebrate spring with? I don't think so! Go for a dreamy romantic white top and match your heels & purse to it.
Last touches? Minimalist gold necklace, bracelet, and rings - obviously.
London gal Monikh Dale went all out for her first day of spring outfit. Ready to bear it all and jump both feet in all at once? Then a maxi dress is your go-to.
Baby blues will truly take over in 2019 and if you haven't seen it everywhere just yet, you definitely will during spring. So, opt for a baby blue tone that suits your skin colour and roll with it.
Another massive trend this year is granddad sandals. Yeah, we're upgrading from dad to grandad. A black pair will suit every other colour you're planning to wear.
Don't forget to accessorise with neutral colours such as beige, another big hit in 2019.
German lady Charlotte Kuhrt is your go-to for colourful spring looks inspiration. Need to still be professional at work? This look has got it all: neutral, powdery pink + babe boss suit + colour injection. What else could you need?
A fitting suit is crucial. Go denim like Charlotte or pick a more summery fabric like linen. Neutral colours as I've stated are so important in your 2019 wardrobe and like Charlotte, you can play with the colour you choose.
A pair of neon-like yellow suede heels is your absolute perfect match if you love colour.
Which one's your favourite? What are you planning to wear on the first day of spring? Let me know in the comments or simply tag us @fashiola_ on instagram when your posting your look!
Love Gal